Hall of Fame


It is extremely appropriate to induct these first two rabbits together. They will be forever linked as the first two rabbits of the Canadian Rabbit Hopping Club. Both first appeared in a performance at 4-H on Parade in 2007 & subsequently the CRHC first stand alone performance at the Calgary Stampede that Summer. They are honored on our logo & we honor them as our first inductees.

Unfortunately, Jeremiah passed away a couple years ago & Willow passed away on Febuary 1, 2016.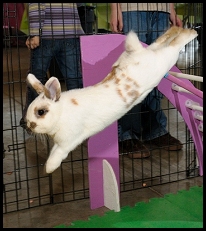 Known for her overall excellence, Buttercup ranks 4th all time in over all points & is one of 4 rabbits to break the 1000 point barrier overall with 1056 points. She was also exceptional at high jump, ranking 5th in high jump points at the time & is still the co-holder of the record for highest jump at 62.5 cm. She was still a main competitor in the A Division until her sudden and untimely death on August 7, 2013 at the age of 5.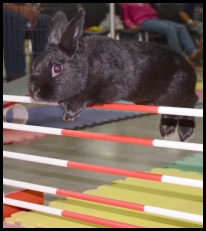 Korr was a star in the jumping events. He is #3 all time in high jump points, #4 all time in the long jump points. He was also the co record holder in the long jump at 11 poles (1.26 m), which stood until 2014. He was also leading Division B in points when he passed away on July 6, 2013.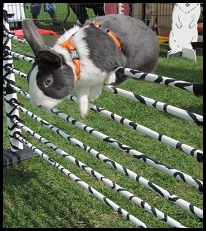 Despite being a rescue rabbit that didn't start hopping until the age of 5, Ty excelled at the high jump. With 90% of his overall points coming in the high jump, he ranks #7, even though he had his career cut short due to health problems, probably related to his rough early life. He has also the co holder of the high jump record at 62.5 cm. He unfortunately passed away on May 21, 2013 after a battle with kidney issues at the age of 10.

2014 Inductees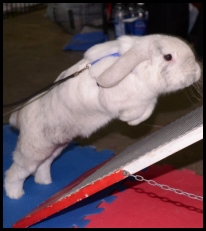 Dispite only competing for a little over two years, Winter left a mark on the CRHC. Winning the first ever B Division Championship, he moved up to A Division where he competed very well. On his retirement, he ranked 7th in over all points. He still holds several records, including highest winning percentage in Side by Side Elimination Race, both in individual races and in matches.

2015 Inductees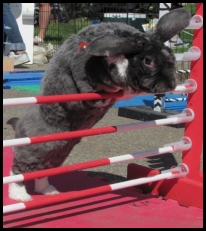 A good overall rabbit, Wallaby's real strength was long jump. Wallaby had the 3rd most wins overall and 3rd most in a season. He held or shared the record for longest jump on 2 separate occasions. Due to health concerns, Wallaby had to retire at the start of the 2014-2015 season and unfortunately passed away on July 10, 2015.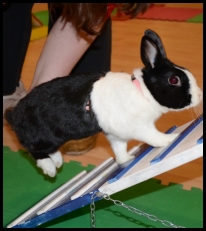 A strong overall rabbit, Kokomo was 9th overall in points at her retirement, cracking the 1000 point barrier just before retiring. She also ranked in the top 5 in Side by Side elimination races.

2016 Inductees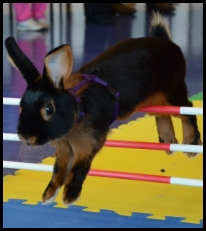 Kraken was a strong overall rabbit. At his retirement, he had 1458 points, good for 10th place overall in club history. He is also the highest point rabbit in the Hall of Fame at his induction. He was very strong in the high jump, almost breaking the 500 point barrier in that event.